Michigan's Isle Royale was established on April 3, 1940 when it was signed into legislation by President Franklin D. Roosevelt. The 45-mile-long island is one of only 5 national parks comprised entirely of one or more islands. It is located in Lake Superior and has an area of 571,790 acres. Isle Royale is among the top 20 largest national parks and is easily accessible from Michigan, Minnesota, Wisconsin, and Canada. Despite this, Isle Royale National Park ranks as the 4th least visited of the 61 national parks with only 25,798 visits in 2018. That being said, it takes Isle Royale nearly a year to get as many visitors as the Grand Canyon sees in one day.
It is worth noting that due to extreme winter conditions, Isle Royale is only open from April 16th through October 31st, but when considering all of its unique characteristics, it is still a surprise why it's not a more popular tourist destination. One of the park's rare features is scuba diving, where visitors can explore 10 major shipwrecks surrounding the island. Visitors can also take part in boating, canoeing, or kayaking and engage in other typical national park activities such as hiking, or camping at one of the island's 36 campgrounds. On average, visitors stay at Isle Royale for 3.5 days, this is because the commute to the island by boat can be 2 to 6 hours, which may be too long for just a day trip. Luckily, Isle Royale has plenty of lodging options.
There are only 20 mammal species living on Isle Royale and the island is commonly observed by scientists studying the single predator-single prey relationships between moose and wolves. This is because the island is the only place where wolves and moose are coexisting without bears being present. It is common for visitors on Isle Royale to come across moose when hiking in the forest. The park is also known for its populations of bats, beavers, foxes, frogs, snakes, and turtles.
Though the annual number of visitors may be low, it is clear that those who visit Isle Royale fall in love with the island's sprawling wilderness. Isle Royale has one of the highest rates of repeat visitors among all national parks. With lake views, 170 miles of trails, tranquil forests, and rocky bluffs, there is no question why people keep going back to Isle Royale.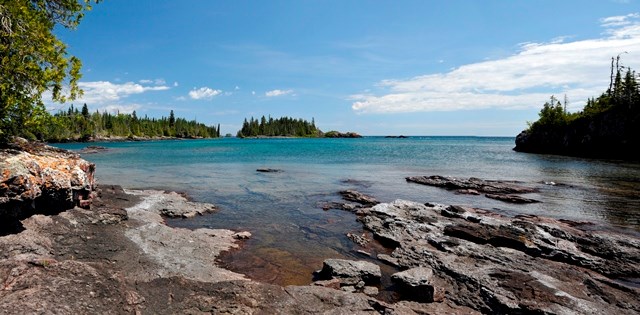 Looking to plan your first trip to Isle Royale National Park? Click here.
---
5 National Parks Comprised Entirely of One or More Islands
---
For more articles like this, check back later at Truth Provision!