Just when he thought it was safe.
In the past few weeks, there has been an increase in speculation that Cristina Fernández de Kirchner will make a third run for President of Argentina. Rumors started swirling as early as 2017, when Kirchner declared that she would lead the opposition to current Argentine President Mauricio Macri's administration. Kirchner's relationship with Macri has been rocky ever since she left the Casa Rosada in 2015. She refused to attend Macri's inauguration, which traditionally includes a ceremony where the outgoing president hands the powers of the office down to the succeeding president. Macri alleged that Kirchner purposely created conflict during the transition period to impugn his administration.
The recent conjecture about a third CFK run occurred on December 15th, when Governor of Entre Ríos Province, Sergio Urribarri, posted a video to his social media accounts, which shows Senator Kirchner addressing her party, Citizen's Unity. In the video, she states, "I'm absolutely convinced we deserve a better Argentina, a better country . . . I'm sure that between all of us, we can build it once again." Take a look:
Kirchner's career in politics has spanned nearly 30 years. After a career as a lawyer, she was first elected as Deputy of the Provincial Legislature of Santa Cruz in 1989, which led to her being appointed as interim Governor of Santa Cruz for several days in 1990 when the incumbent governor was impeached. In 1991, she became the First Lady of Santa Cruz when her husband Néstor Kirchner was elected as governor. CFK was then elected as Argentine Senator from Santa Cruz in 1995. By 2003, she was the First Lady of Argentina after her husband successfully ran for president. While first lady, she simultaneously served a term as Argentine Senator from Buenos Aires.
When Kirchner's husband decided not to run for a second presidential term in 2007, CFK announced her candidacy for president. She won against each of her opponents by more than 4,000,000 votes, making her the first woman in the history of Argentina to be elected as president. She successfully ran for a second term in 2011, again making history, this time as the first woman to be elected as President of Argentina twice. Additionally, the 2011 election saw Kirchner obtain the highest victory percentage in the country since 1983. Due to term limits, CFK could not run again in the 2015 Argentina presidential election. However, in the October 2017 midterms, she was elected once again as Argentine Senator from Buenos Aires, marking the 4th time in her career that she has been elected to the Argentine Senate.
Kirchner's tenure as President of Argentina was marred by controversy and scandal, which included accusations of bribery, ties to the Sinaloa Cartel, illegal use of campaign funds, mysterious deaths of political foes, attacks against Argentina's Grupo Clarin media conglomerate, and private support of a campaign to strike down presidential term limits by amending the Constitution of Argentina. Despite these events, Kirchner has a large group of supporters. Her left-wing policies and social programs have been reported by UNICEF to lower extreme poverty in Argentina by 30.8% and general poverty in Argentina by 5.6%. Her strong relationships with human rights groups, as well as her advocacy for the prosecution of war criminals are also factors that contribute to her approval in Argentina.
On the other hand, President Macri's career has had its own scandals. He was accused of spying on his enemies in 2010 through wiretapping, while serving as Chief of Government of Buenos Aires. In 2016, the Panama Papers leak revealed that Macri illegally served in executive capacities at several offshore companies during his tenure as Mayor of Buenos Aires, as well as his failure to report the sources of his earnings when filing taxes. He has been embroiled in another scandal since 2017 for refusing to order the release of activist, Milagro Sala, who was imprisoned in 2016 for leading protests against the Governor of Jujuy Province, Gerardo Morales. As president, Macri has failed to live up to his 2015 campaign promises. Under his administration, in the past 3 years, poverty in Argentina has risen by 5%, human rights organizations have been shunned, and the GDP of Argentina has dropped by 2%. In addition, Macri has failed to keep his promise of "zero percent inflation," with current inflation in Argentina at 46%.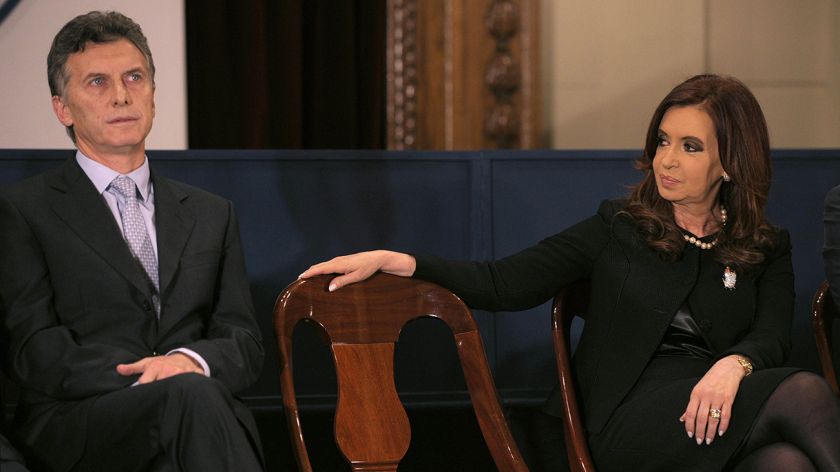 While President Macri will have to hope for economic recovery before the election, Senator Kirchner will have to focus on strengthening her credibility after several legal woes. Last year, she was charged with high treason for allegedly using the Central Bank to impair Macri's presidency, as well as covering up the 1994 AMIA bombing in exchange for cheaper oil and goods from Iran. The prosecutor in the bombing case was murdered under suspicious circumstances only hours before he was scheduled to testify against her. But luckily for Senator Kirchner, she is immune from prosecution, as members of the Argentine Senate enjoy parliamentary immunity while in office. Her term does not end until 2023, meaning that congress would have to vote to strip her of her immunity in order for prosecution proceedings to take place. Congress already held a vote back in November on whether CFK should be stripped of congressional immunity, but of the 37 senators that were needed to take that privilege from her, only 26 of them showed up to vote.
If Kirchner decides to run, both she and Macri will have to work on increasing their favorability ratings. In the past year, Macri's has dropped from 65% to 42% due to his performance as president, while Kirchner's rose from 30.9% to 31.4% after she held a rally where she defended herself against the charges brought against her.
Despite her legal issues, Senator Kirchner still polls as the biggest threat to Macri's presidency. In a recent general election poll, she was at 29% compared to Macri's 34%; the highest of any candidate polled against him. However, in several provinces of Argentina, Kirchner beats Macri by more than 10 points. These provinces include Córdoba and Santa Cruz. In the province of Buenos Aires, Kirchner polled at 34%, while Macri only received 23%. In addition, the poll saw Kirchner beat former National Deputy of Buenos Aires, Sergio Massa, by 20+ points, as well as current Governor of Buenos Aires, María Eugenia Vidal, who was outpolled by 5 points. Macri himself seems to view her as his 2019 opponent, as his political strategists have already began gauging how the voters would perceive Kirchner in a 2019 match.
Only time will tell whether former President Cristina Fernández de Kirchner will run for a third term as President of Argentina. If one thing is for sure, Senator Kirchner is clearly the early frontrunner and has the most star power among her peers.
Check back later at Truth Provision for more updates on the 2019 Argentina presidential election!