One week from today will mark 3 years since 10 seismic explosions occurred in Tianjin, China at a hazardous chemical container facility operated by Ruihai Logistics. The August 12, 2015 explosions were triggered when a container of nitrocellulose became overheated. The second explosion was the largest and was caused after the first explosion resulted in the overheating of 800 tons of ammonium nitrate, which was also being stored at the facility. The blast of the first explosion was so powerful that it caused a 2.3 magnitude earthquake, while the second explosion set off a 2.9 magnitude earthquake.
The energy released in the explosions was equivalent to the detonation of 28 tons of TNT. The blast was so enormous that it was able to be seen from satellites. The disaster resulted in the deaths of 173 people, while 797 were left with extensive burn injuries and 8 remain missing. Of the fatalities, 95 of them were firemen, as there had been over 1,000 present at the site of the disaster.  Ruihai Logistics had been illegally storing the hazardous chemicals for 9 months without a license. As a result, fire squads were oblivious to the 11,300 tons of chemicals on site. Due to this, the use of water to douse the flames only worsened the blaze, which covered the entire 500,000 square foot facility. In all, it took 3 days for firemen to put out the blaze.
The effects of the explosions on the Port of Tianjin were disastrous. A large crater was left in the center of the site where the facility was located. Over 300 buildings were severely damaged, along with more than 12,000 cars (of which 8,000 were newly built vehicles from Toyota, Kia, Volkswagen, Hyundai, and Renault). Glass windows were shattered in over 17,000 apartment units surrounding Tianjin, with some over a mile away from the explosion site. The disaster resulted in detrimental effects to the environment as well. After the explosion, rain in the city contained cyanide dust, which caused the streets to fill with foam when raindrops fell to the floor. Residents of the area reported skin rashes and burns upon contact with the rain. Over 6,000 residents of Tianjin were displaced in the disaster and held in shelters while the military performed a search and recovery operation.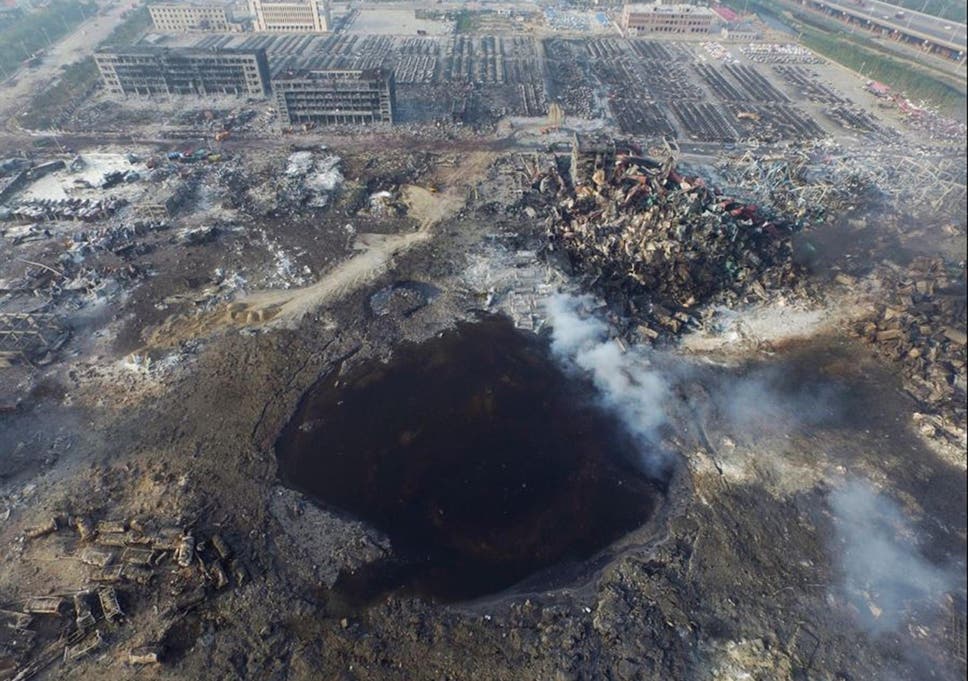 Overall, the cost of damage from the disaster was $3.3 billion. An investigation by the Chinese government resulted in 49 people being imprisoned, including Tianjin politicians, as well as executives of Ruihai Logistics. The chairmen of the company, Yu Xuewei, was sentenced to death with a two-year reprieve on November 8, 2016.
Check back soon at Truth Provision for more on world disasters!