Cardi B
Congrats are in order for rap superstar, Cardi B, after her debut album, Invasion of Privacy, was certified Platinum this week by the RIAA for digital sales and streaming equivalents of over 1,000,000 copies. Achieving the plaque is another accomplishment for the rapper, who adds a platinum album to an impressive list that includes a #1 album, several multi-platinum singles, six Billboard Hot 100 Top Ten hits, and two Billboard Hot 100 #1 songs.
Earlier in the week, Cardi clapped back at an Instagram user who didn't have very nice things to say about her baby shower, commenting, "All that money and the baby shower look like a bucket of CORN." Cardi came across the comment, and responded with, "It was beautiful and we were happy. Your mom waited a whole nine months for you to be ugly and a bucket of disappointment."
Cardi's latest single from Invasion of Privacy, "I Like It" featuring J Balvin and Bad Bunny, is currently sitting at the top of the Billboard Hot 100, occupying the #1 spot. Last week, the song made her the only female rapper in history to have two Billboard Hot 100 #1s.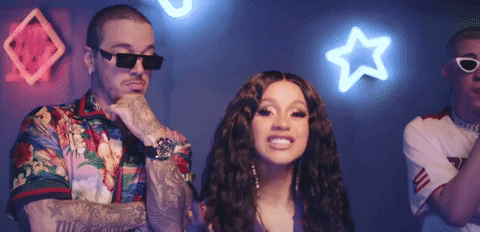 Nicki Minaj
This week, Nicki Minaj released the music video for her album Queen's second single, "Bed" featuring Ariana Grande. Minaj announced to fans on Twitter that "Bed" had two music videos, and that the second edit of the video would be released next week. The video will hopefully help Nicki on the streaming front, which could help the chart placement of the track which debuted and peaked on the Billboard Hot 100 at #43 and has since fallen to #67.
Since its release on Friday the 6th, the mermaid-inspired video has garnered 9.8 million views on YouTube. The visual premiered just days after rapper, Joe Budden, claimed on his podcast, that he believed Minaj had developed a drug addiction. He pointed to a recent video of her opening gifts as evidence of how a person would behave under the influence of pills. According to Joe, he knows this because he himself used to be addicted to pills. Take a look at the video below:
Back in May, fans noticed a change in Nicki's demeanor. During a video where she announced that her album would be pushed back until August 10th, multiple social media users noted that Minaj seemed "sedated" and "out of it." Take a look for yourself below:
Hopefully, the First Lady of Young Money is just exhausted from wrapping up her new album, but if not, we hope she can put her health first so that she can shape the release of Queen into a successful fourth era.
Iggy Azalea
On Friday, Iggy Azalea's upcoming EP, Survive the Summer, was made available for pre-order. The 6 track set will be released on August 3rd. This week, Iggy released a buzz single from the project, called "Tokyo Snow Trip," which pays homage to the Ying Yang Twins' 2005 hit single, "Wait (The Whisper Song)." The record is allegedly a diss track to pop singer, Halsey, who was photographed on a yacht snorting cocaine with rapper, G-Eazy. Halsey has been critical of Iggy in the past few years, often taking shots at her in interviews.
This week also saw the release of Iggy's music video for Survive the Summer's lead single, "Kream" featuring Tyga, which samples the hit song, "C.R.E.A.M." by Wu Tang Clan. The twerk-anthem understandably employs a stripper-themed video, which is easily one of the best visuals of Iggy's career. Take a peek below:
After a multitude of false-starts, which resulted in her sophomore album, Digital Distortion, being shelved by Island Records, it has now been over 2 years since Iggy has charted on the Billboard Hot 100. However, "Kream" has garnered 8.5 million views in its first 2 days of release and is sitting at #1 on the iTunes Music Video chart. Hopefully, this can be the formula that gives Iggy another hit.
Come back soon for the latest on Cardi B, Nicki Minaj, and Iggy Azalea!